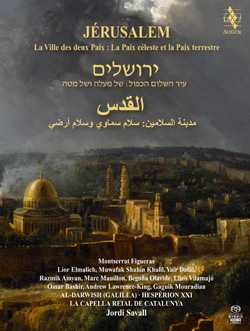 Livre de 423 pages & 2 CD
(Français / Castellano / English / Català
/ Deutsch / Italiano

Raices & Memoria vol. VIII




Artistes / Performers :
La Capella Reial de Catalunya
Al-Darwish (Galilea)
Hespèrion XXI
Montserrat Figueras
Direction : Jordi Savall


Lieux d'enregistrement / Recording sites:
Collégiale de Cardona (Catalogne). L'église de Saint-Pierre-aux-Nonnains. L'Arsenal de Metz
L'Abbaye de Fontfroide

Dates d'enregistrement:
Recording dates: 2007-2008
Durée totale / Total time:
CD1: 78:52'
CD2: 75:40'
Hommage à Jérusalem et Invocation à la Paix
"Une Paix résultant d'un dialogue basé sur l'empathie et le respect mutuel est, malgré les énormes difficultés qu'elle présente, un chemin d'avenir nécessaire et désirable pour tous. Un objectif à la fois urgent et incontournable qui peut aider l'humanité à surmonter ses peurs et ses folies ancestrales et évier ainsi tant de victimes innocentes et tant de souffrance inutiles."
"Jérusalem est beaucoup plus qu'une ville sacrée, elle est un symbole pour l'humanité toute entière, elle nous rappelle encore à tous, en ce XXIe siècle, la grande difficulté de vivre ensemble."
"Sans paix il n'y a pas de vie humaine possible."

Montserrat Figueras et Jordi Savall,
"Artistes pour la Paix" de l'UNESCO
Bellaterra, automne 2008

A homage to Jerusalem and an invocation to Peace
"A Peace born out of a dialogue based on empathy and mutual respect is, despite the enormous difficulties involved, a necessary and desirable path forward for all concerned. It is a goal that is both urgent and imperative, one which can help humanity to overcome its ancestral fears and follies, thus preventing countless innocent victims and untold futile suffering."
"Jerusalem is much more than a holy city; it is a symbol for all mankind, continuing to remind us all in this 21st century of the difficulty involved in living together."
"Without peace, no human life is possible."

Montserrat Figueras and Jordi Savall,
UNESCO "Artists for Peace"
Bellaterra, Autumn 2008


Appréciation (s) / Review(s)



Vol. 32:5 (05-06/2009)
See below



Opus Haute Définition
(14/02/2009)
(Fr) & (En)

ClassiqueInfo Disque
Par: Philippe Houbert


Extrait du livret / From the liner notes
JÉRUSALEM, La ville des deux paix. Les musiques de l'histoire de la ville de Jérusalem


L'une des étymologies qui expliquent le nom de la ville de Jérusalem, traduit son nom en hébreu comme « la ville des deux paix », faisant une claire référence métaphorique à la « paix céleste » aussi bien qu'à « la paix terrestre », la première proclamée et promise par les prophètes qui y vécurent ou y passèrent, la seconde toujours désirée par les politiques de toutes les époques qui l'ont gouvernée pendant ses plus de cinq mille ans répertoriés par l'histoire.

Sanctifiée par les trois grandes religions monothéistes de la Méditerranée, Jérusalem s'est transformée en une ville invoquée et désirée, briguée par tous, devenue l'objectif, le but et la cible des pèlerins de toutes sortes. Certains sont venus à elle en odeur de paix et d'autres comme soldats ou avec des armées sur le pied de guerre, coupables d'assiéger, d'incendier, ruiner et dévaster Jérusalem plus de quarante fois durant sa longue histoire.

Ville sainte ou ville maudite, Jordi Savall et Montserrat Figueras – avec d'autres musiciens juifs, chrétiens et musulmans d'Israël, Palestine, Grèce, Syrie, Arménie, Turquie, Angleterre, France, Espagne, Italie, Belgique et les formations Hespèrion XXI et La Capella Reial de Catalunya – présentent les avatars historiques de Jérusalem en une frise de textes et de musiques selon ses divers protagonistes : musiques juives, arabes et chrétiennes de jadis et d'aujourd'hui où Jérusalem y est présentée comme une ville qui espère peut-être réunir les deux paix de son nom.

Manuel Forcano, 2008


JERUSALEM, City of the two peaces. The music of the history of Jerusalem
One of the etymologies tracing the name of the city of Jerusalem translates its Hebrew name as "the city of the two peaces", in what is a clear metaphorical reference both to "heavenly peace" and "earthly peace", the former proclaimed and promised by the prophets who lived in or visited the city, and the latter sought by the political leaders who have governed the city throughout its five thousand years of documented existence.

Sanctified by the three great monotheistic religions of the Mediterranean, Jerusalem soon became the focus of prayers and longing. Desired by all, she has been the goal, aim and destination of pilgrims of all persuasions who flock to her gates in peace, but also the objective of soldiers and armies in pursuit of war, who have besieged and burned the city, bringing ruin and devastation more than forty times throughout her long history.

Jordi Savall and Montserrat Figueras, in the company of Jewish, Christian and Muslim musicians from Israel, Palestine, Greece, Syria, Armenia, Turkey, England, France, Spain, Italy, Belgium, as well as their own ensembles Hespèrion XXI and La Capella Reial de Catalunya, portray the chequered fortunes of Jerusalem – a holy city or a city bedevilled – in a frieze of texts and music evoking her protagonists. Jewish, Arab and Christian music from ancient times to the present day highlights Jerusalem as a city that looks forward to the possibility of achieving the two peaces proclaimed in its name.

Manuel Forcano, 2008




Puchasing CDs through either one of the above vendors helps support the continued existence of this site. Yes, we do get a small referral fee for every puchase made, including third party sellers. However, you must initiate your purchase from this site.
Thank you for your support.



Tout achat via l'un ou l'autre des fournisseurs proposés ci-haut contribue à défrayer les coûts d'exploitation de ce site. Chaque commande génère une légère redevance qui nous est versée, et ce pour tout type de transaction, en autant qu'elle soit initiée à partir de ce site.
Merci de votre encouragement.