Texte paru dans: / Appeared in: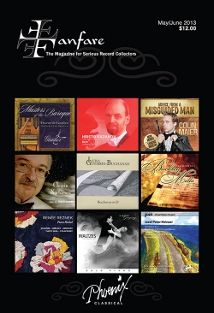 Fanfare Magazine: 36:5 (05-06/2013)
Pour s'abonner / Subscription information
Les abonnés à Fanfare Magazine ont accès aux archives du magazine sur internet.
Subscribers to Fanfare Magazine have access to the archives of the magazine on the net.

Hyperion
CDA67959




0034571179599 (ID240)
Jean Richafort, (c.1480-c.1547),
"Requiem" et oeuvres sacrées par / and sacred music by Després, Gombert, Vinders,
Ensemble Cinquecento
Consultez toutes les évaluations recensées pour ce cd ~~~~ Reach all the evaluations located for this CD
Reviewer:
J. F. Weber

The seventh issue by the Viennese ensemble Cinquecento belongs to an earlier era than the mid 15th-century period that has provided most of their repertoire. As the title makes clear, most of the music commemorates the death of Josquin des Prez. Josquin's own works are chosen to fit the theme, Nymphes, nappées and Faulte d'argent both being quoted in Jean Richafort's Requiem for six voices on the death of Josquin. Nymphes des bois is Josquin's own lament on the death of Ockeghem, and Miserere mei for the Holy Week services, one of his finest motets, fits the mood. The remaining pieces by Benedictus Appenzeller, Hieronymus Vinders, and Nicolas Gombert were laments on the death of Josquin, printed in 1545 in a volume of music attributed to Josquin.
Paul van Nevel has recorded Richafort's Requiem (Fanfare 26:3) using a larger ensemble in a more reverberant space. Van Nevel's issue is still the most impressive representation of the obscure composer ever made (what little is known of him is summarized in the earlier review). It should be noted that Dutch surnames include the "van," unlike the "von" in German names, as one of our Dutch readers pointed out in the Letters column many years ago. This lighter, slightly faster rendition has its own appeal, even apart from the exquisite performance that is typical of everything this ensemble does. It is useful, too, to hear the two Josquin pieces that are quoted in the Requiem.
The Vinders motet has been recorded by Konrad Ruhland (with the Appenzeller), Bruno Turner (with the Gombert), Jeremy Summerly, Philip Thorby, and Emmanuel Bonnardot. Other recordings of the Gombert motet have come from Bo Holten, Guy Janssens, the Hilliard Ensemble (29:5), Meinolf Brüser, and Jeremy Summerly (29:5). The Appenzeller was also done by the Ensemble Clément Janequin.
The male ensemble, one to a part, continues a notable string of successes, furnishing exquisite performances of programs carefully assembled around a theme or a composer. This level of quality devoted to a miscellaneous collection of unrelated works would not have the same impact. The ensemble certainly gains cohesion by singing Mass weekly at a Viennese church. Even if you have Van Nevel's Richafort disc, which retains its significance, you should hear this version, too. Highly recommended.